Video Outreach Can Drastically Change Your Business! 🎥 📈
Are you tired of the same old cold outreach methods that yield lackluster results? Whether it's sales outreach, trying to get on a podcast, or even trying to earn media, it's time to shake things up and embrace a game-changing approach: video outreach.
In this blog, we'll explore the power of video in capturing attention, establishing connections, and skyrocketing your cold outreach success.
Get ready to transform your outreach game with the captivating potential of video!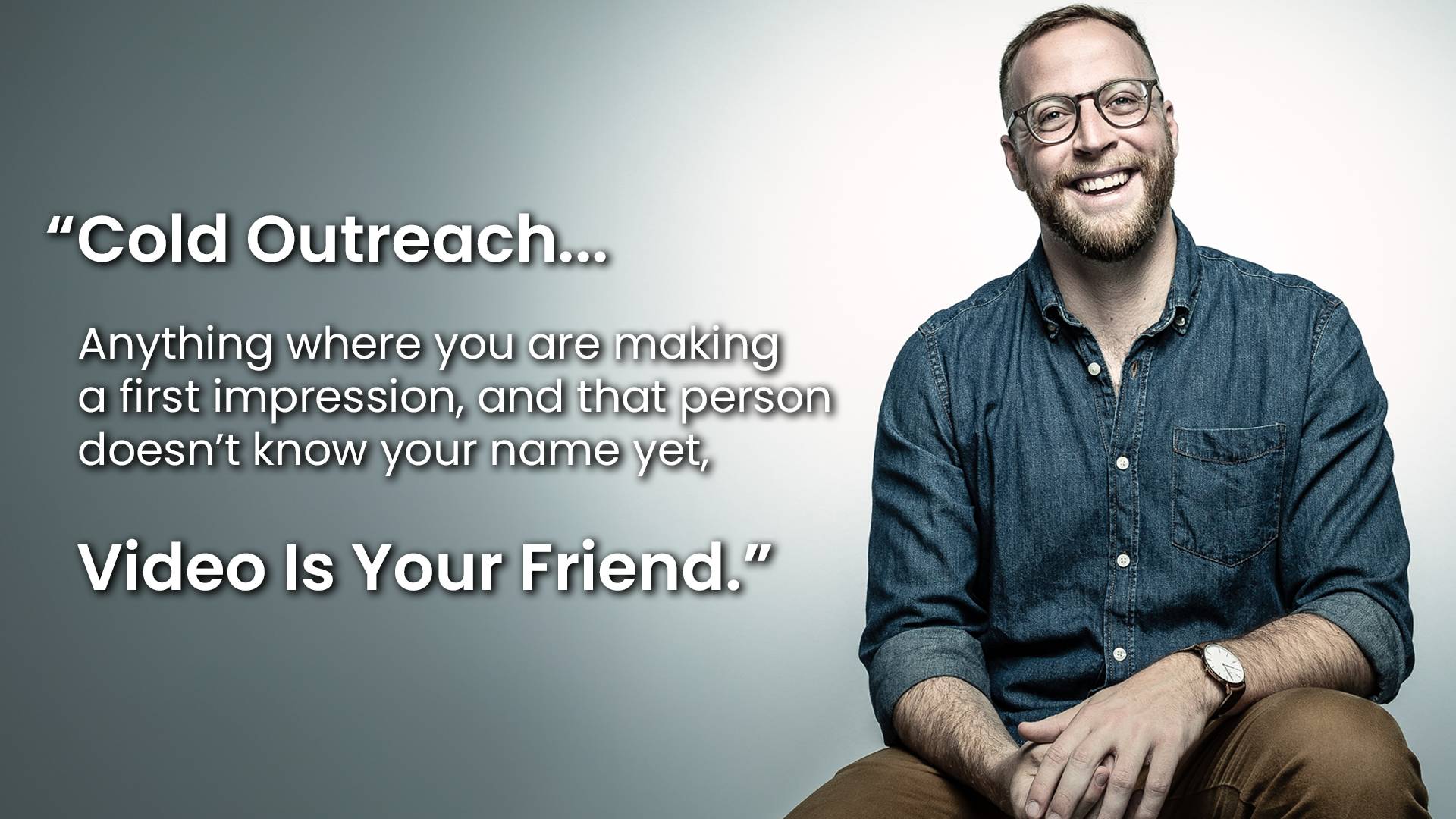 How Cold Outreach Via Video Helped These Entrepreneurs Find Success!
When "Media Maven" Christina Nicholson wanted to score a spot on one of the largest business podcasts on the planet. Did she just simply join the over 400 guest requests that Pat Flynn's podcast got every day via email? No! She created a Video Pitch instead!! Here she explains in her own words.
Pat's podcast was the first one that I ever listened to, and I heard him saying once on a podcast that he got like 400 pitches a day from people who wanted to be guests.
And he never got video pitches, but he would love video pitches, and I'm sure a lot of people heard that and didn't think anything of it. But I thought, okay, well I'm gonna pitch him to be a guest on his podcast, but I'm gonna pitch through a video. So I recorded a video pitch, and it's basically like everything that I would've said in a written pitch I just recorded on video.
It was less than three minutes long if you follow me. You know, I like short and sweet pitches that are straight to the point. I uploaded it on YouTube and I had it unlisted, and I followed up about a week later because I realized there was just one view, and that was me just making sure everything worked okay and when I followed up, I got booked on his podcast, and then a couple of years later he started a mastermind. And because he knew me from being on his podcast that first time, he accepted me into his mastermind. Out of hundreds of applicants. And then after that, he invited me on his podcast again. And then after that he invited me on stage to speak with him at Podcast Movement.
Becky Pierson Davidson told me a short but powerful story about the impact that video outreach can have. Here it is in her words:
I sent a cold outreach video to the COO at bossbabe on LinkedIn which is how I landed my role as Head of Product there. It was 3 mins long and titled "I'm Your Next Head Of Product".
It has been said that "Fortune Favors the Bold"!
The Benefits of Video Outreach:
Cold outreach can be a challenging endeavor, with low response rates and difficulty standing out from the crowd. However, video outreach offers a refreshing solution that not only grabs attention but also creates a lasting impact. By incorporating videos into your outreach strategy, you can experience several key benefits:
Higher Response Rates: Videos capture attention and evoke curiosity, significantly increasing the chances of prospects engaging with your message.
Enhanced Personalization: With video, you can add a personal touch that resonates deeply with your prospects, fostering a sense of connection and trust.
Stronger Emotional Connection: Videos allow you to convey emotions, tell stories, and create a genuine connection that goes beyond traditional written outreach.
Crafting an Effective Video Outreach Strategy:
To make the most of video outreach, it's crucial to have a well-thought-out strategy in place. Let's dive into some essential steps for creating impactful video outreach:
Understanding Your Target Audience: Before creating your videos, take the time to understand your target audience deeply. Research their pain points, goals, and preferences to tailor your video messages effectively. If you are making a personal video for an individual… take the time to actually make it personal. Use a tool like ​Tella.Tv​ to create a personal video and drop the animated GIF link into an email or DM. Who wouldn't want to watch a video that was made specifically for them?
Creating Engaging Video Content: To captivate your prospects, focus on creating engaging video content. Craft a concise script, grab attention early, and use visuals or animations to enhance the viewing experience. This is really no different than ​writing a script​ for a great youtube video. Yes, this video can be shorter and more concise, but you should put just as much care into your script.
Personalizing Your Approach: Personalization is key in video outreach. Address recipients by name, reference their specific pain points and demonstrate how your offering can provide solutions tailored to their needs. Do whatever is necessary to let them know this isn't some boring canned video, but instead one made just for them.
Delivering the Message: Choose the right platform for delivering your video outreach, whether it's via email, LinkedIn, or other platforms. Optimize the video length to keep it concise and impactful, and always include a clear call to action. I think I could pitch any product or idea that I have in 60 seconds or less, so let's keep these videos short and to the point. There will always be time to expound if you receive a response or connection.
Overcoming Common Challenges: Implementing video outreach might come with its own set of challenges. Don't worry; we've got you covered! We'll address common concerns such as technical difficulties, camera shyness, or scalability issues, providing practical solutions to help you navigate these obstacles with ease. We offer 3 specific products to help with any stage of video production you might be at AND we underpin it all with 12 months of free community access for ongoing support and education during your video content creation journey.
3 Hour Studio: ​https://3HourStudio.com​ A program that helps entrepreneurs and professionals attain the correct equipment, set up their studio space, implement a video content strategy, and start growing their Audience, Confidence, and Revenue!
Video Content Pros: https://vfe.media/vcp A 4-week live cohort course covering everything from camera presence and video strategy to titles, thumbnails, and video editing for content marketing.
Video Editing Services: ​https://vfe.media/ves​ (On sale until July 1, 2023) Monthly editing services for busy entrepreneurs who love creating videos but don't have time to edit those assets into usable video content for their business.
Real-life Success Stories: To inspire and motivate you, we've gathered ​real-life success stories​ from businesses and individuals who have achieved remarkable results with video outreach. Discover their strategies, learn from their experiences, and witness the transformational power of video in action.
Tools and Resources: To help you streamline your video outreach efforts, we've compiled a list of recommended tools, platforms, and software. From video email platforms to screen recording software and video hosting solutions, these resources will support your video outreach journey.
VISIT MY TOOL RECOMMENDATION POST
---
Ready to revolutionize your cold outreach? Take the first step by incorporating video into your strategy. Book a strategy call with us to discuss how video outreach can elevate your business or access our exclusive resource on video outreach best practices. The possibilities are endless!