​
Hello friends and welcome to
Report #001 from the Antipreneur Team.
I am absolutely stoked to be launching this completely revitalized newsletter now known as the "Antipreneur Report"
The team have been hard at work compiling our best assets, thoughts, and artifacts into 1 weekly report.
We are thrilled to be at a place of so much focus and clarity and now it is time to serve our audience by bringing the most valuable information, education, and inspiration that we can muster.
I hope this issue finds you well and thriving… here we go!
​

​
This weeks report if focused on the idea of "Introducing" yourself. I am mainly focused on how to this through a 60 second introduction video. Feel free to check out the video below if you want to learn how to make your own!
​
This weeks Blog Article on the topic breaks down "how" to create a great video introduction, but in this report I want to focus a little more on the "why". Why is it important to pay attention to how you go about introducing yourself, especially through video? I often wonder why video and storytelling are so often an afterthought for entrepreneurs.
If you were taken by a colleague to meet some executives at their headquarters, and you wanted to pitch these folks on your product or service, you would take introducing yourself pretty seriously…right? But for some reason many of us mail in our introduction or "About Me" videos OR even worse… do not even create them at all.
​Dmitrii Kustov, Founder of RegexSEO, who was on Episode #60 of The #Antipreneur Show Podcast, shared that the 3rd most important page when it comes to retention on a website is an about me page with an about me video embedded. So it seems to me that if a company like RegexSEO, who has studied hundreds of websites and discovered that the introduction video is so important, that maybe us entrepreneurs should take how we introduce ourselves pretty serious.
Feel free to link out to the Video or Blog for a complete breakdown, but in its purist form, this is the framework for a great introduction.
Start at the beginning.

Literally introduce yourself and give a little background to your story.

Tell them where you are coming from.

Maybe give the viewer a little origin story or back story? Where did you come from and what lead you to this moment? Don't hold back here, share what has driven you to want to help others with your product or service.

Tell them "why" you are here.

And tell them why THEY are here for that matter. Take a moment to explain your intentions and use this opportunity to set expectations.

Give them a clear and strong Call to Action (CTA)

Your final step is critical and not always so easy. You need to tell your audience what you would like them to take action on. What do you them to do next? Don't be afraid to spell it out for them.
I hope this section has convinced you of just how important a strong introduction video is!
If you ever want to book a 15 minute call with me to discuss your 60 second introduction video, just click the button below.
​
​

​
Things I found helpful, useful, or interesting on the web this week.
1. How to Write a Great About Me Page.
I spoke earlier about an introduction video for your "About Me" page but there is of course copy that has to go along with that video. Copyblogger.com has an excellent article that really harnessed not only the importance of a great "about me" page, but also lists 7 mistakes to avoid on your about me page AND some great examples from the web that you can use for inspiration to write or revamp your own about me page.
​
⬇️ Click the Article Link Below ⬇️
​"How to Write an About Me Page that Inspires Readers and Grows Your Business"​
​
2. How to Write a Great Call To Action (CTA)
I am often annoyed when entrepreneurs gloss over important things and just keep trucking. 🚛
AdEspresso.com has an excellent article on how to write a great Call to Action. Actually, they have 15 of them and I am sure you can find something in this list that resinates with you. This article has a TON of excellent examples of great Calls to Action as well, so it is tell AND show, which is one of my favorite ways to learn.
​
⬇️ Click the Article Link Below ⬇️
​15 Call To Action Examples (and How to Write the Perfect CTA).​
​
​

​
Tell Your Story Through Video
and increase your revenue as a result
Helping Entrepreneurs and Startups learn how to look and sound good is what drives me. For those who feel Stuck, Scared, or simply don't know where to start… I got you.
The Quiz
Take our free 5 minute quiz to find out your "Video Content Creator Type" AND get curated and valuable tools made just for you and where you are on your journey.
Live Video Q&As
Join me bi-weekly for our Live Q&A episodes on YouTube, where I answer any and all video questions from our audience. I will help you get unstuck and advance quickly in your video content creator journey.
​
The Video Sandbox
Join this small stand alone section of the "1 Minute Media" community where you can stretch your 🦅 wings and exercise those video content creator muscles 💪🏻 all while receiving loving critique and feedback from peers and video professionals in a safe and private environment. Share video ideas, test videos and final productions before you release them to the world.
​
The 1 Minute Media Community
Our Private Membership Community is where Entrepreneurs gain access to everything they need to learn how to look and sound great on camera. We offer everything you need for fast transformation. Learn to look and sound great on camera and grow your revenue as a result.
​
Some of the things you can expect from the 1 Minute Media Community.
• Video Lessons and Feedback
• Progress Logs – For Accountability and Support
• Live Events: Zoom Based "Office Hours" and "Workshops"
• Discounted Digital Products for Members
• The Video Sandbox (Included in Full Membership)
• Access to me as I am in the community right beside you!
​

​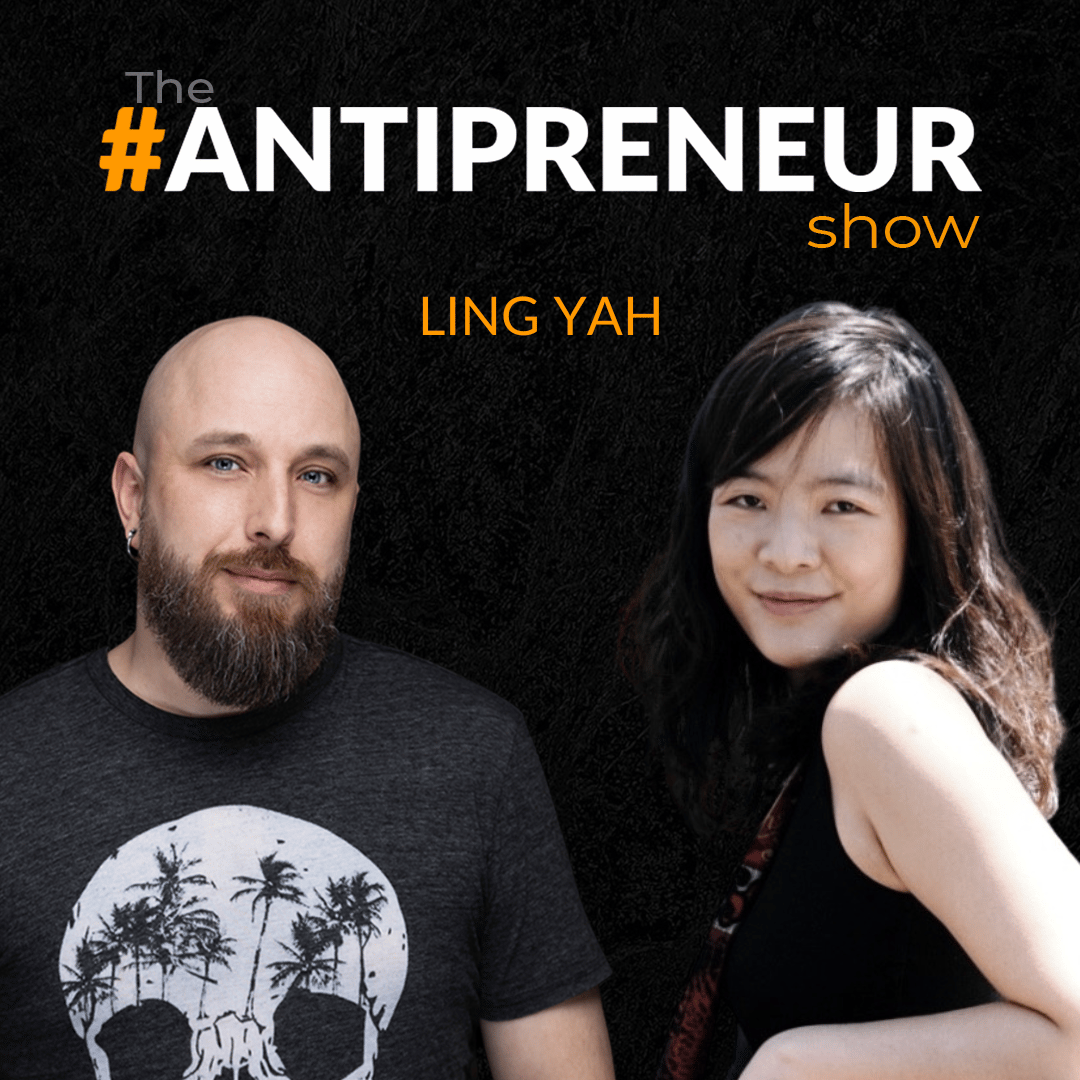 ​
This weeks episode of the #Antipreneur Show Podcast features the incredible Ling Yah.
Ling is a lawyer by training and runs a podcast called So This Is My Why (www.sothisismywhy.com) where she features inspiring people about their why and how they turn them into reality.
She has done everything from having her podcast featured on the "Late Show w/ Jame Corden" to hiking to Everest Base Camp during March 2020 when the world went into a lockdown!
This is a really fun episode and Ling has a ton of great information to share with the world.
​
​
Interested in being on the show? Fill out our pre-booking application form to be consideration as a guest.
​

​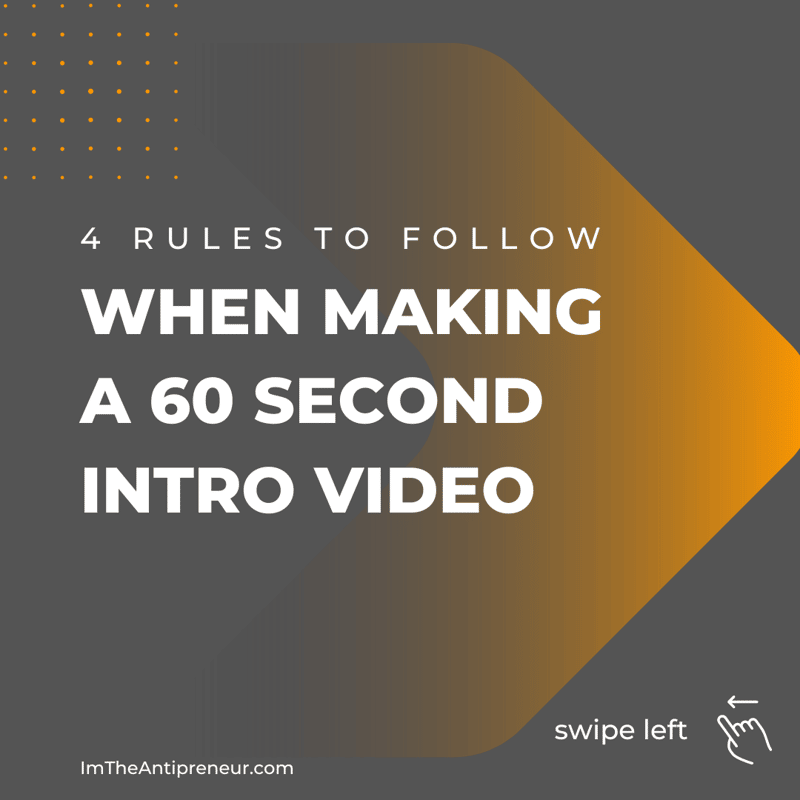 ​
​

​
If you made it this far in the report I genuinely want to say thank you. Thank you for supporting my work, for caring about your own business enough to search for answers and for being a rad human.
​
If you feel like this report was valuable and maybe someone you know might benefit from having it in their hands, just hit forward on this email or send them to ImTheAntipreneur.com/newsletter​
See you next week,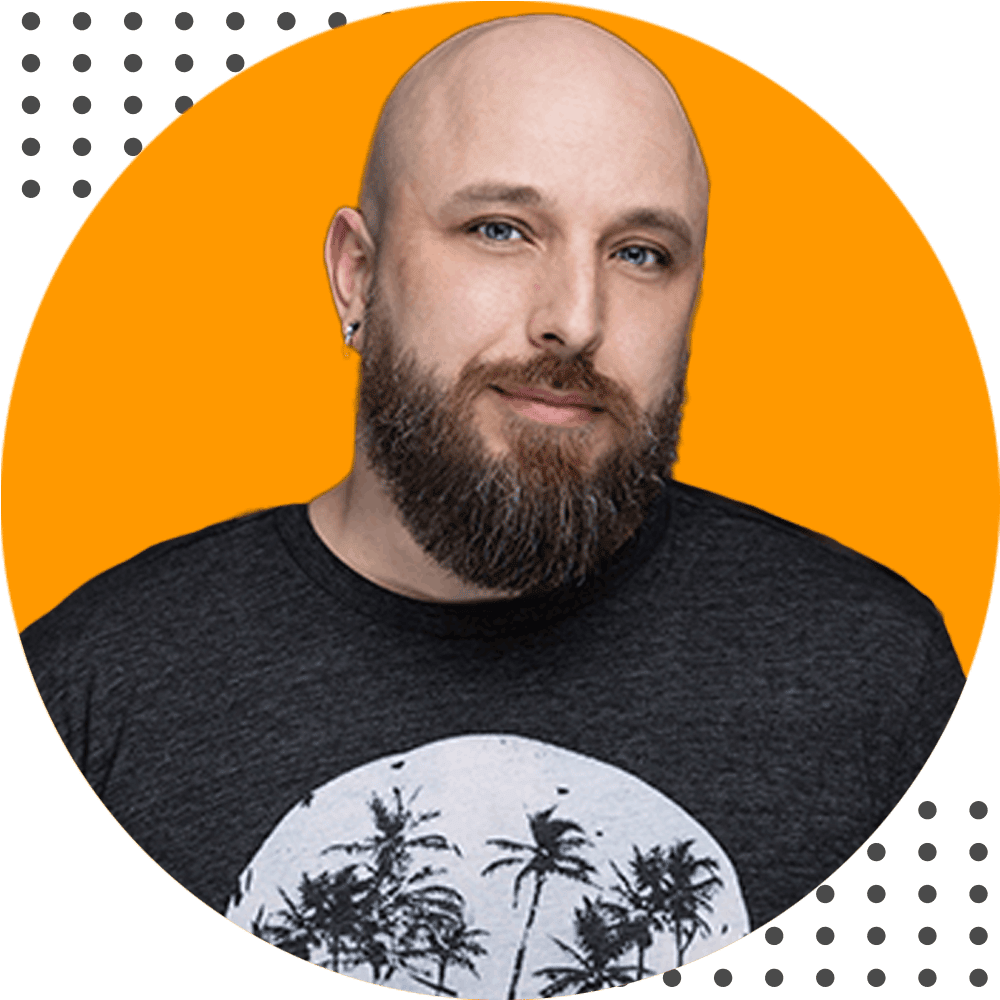 ​
Dan Bennett – The #Antipreneur​
Founder – 1 Minute Media​
​
​

​
This week's rose:
​I had the incredible honor to be a part of an awesome project called "Surge Small Batch". Part of the story development process was creating a video to help them communicate to their audience exact what the small batch project was and how they could get involved. You can watch the promotional Video Here.
Thorn of the week:
​I am currently struggling with keeping up with everything as my business grows. We have some really ambitious goals here at the Antipreneur camp, and I feel sometimes like I am walking through thick mud. I do have help and I am grateful 🙏🏻 but there is still always so much left to do. 😕
What's blooming:​
This newsletter! This is Report #001 and if that isn't something awesome budding, I don't know what is. Many more Reports to come and many more insights, assets and inspiration to share.
​
See what I'm up to..
​